PARTY FOR A CURE, along with its Hosts, would like to welcome you and thank you for coming this evening! We are so grateful you chose to spend your evening with us helping those affected with neuromuscular diseases. It is only with your support and generosity that we can continue to make a difference.
Fox 45 Sports Unlimited Host, Bruce Cunningham, is our wonderful master of ceremonies.
Live entertainment is provided by The Ruxtones.
Our auctioneer for the evening will be Benjamin Roes
Photography provided by Lindsay Archer Photography
Find pictures from the event here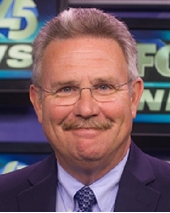 Bruce Cunningham is the Sports Director and weekday sports anchor for FOX45. Bruce has been with the News at Ten since its inception in June 1991. He anchors sports weeknights on the 5, 10 and 11pm newscasts, including the 30-minute Sunday night edition of Sports Unlimited.
Bruce has been the PA announcer for the Ravens (NFL) since 1999. Prior to that, he did radio play-by-play for the Ravens (NFL) and the Stallions (CFL), play-by-play for the MPSSAA High School football state championships, MIAA lacrosse, basketball and football, play-by-play for soccer for the Baltimore Blast (on HTS) and Lacrosse for the Baltimore Thunder (on WCBM).
He hosted the Gary Williams Show on WNUV during the 1997 – 1998 season. Bruce also co-hosted the Orioles Pre-Game Show television program (MLB Baseball 1996) on WNUV TV-54.
He is heard Saturdays from Noon-3pm ON 105.7 The Fan in Baltimore.
Active in the community, Bruce hosted the local cut-ins on the Jerry Lewis MDA Telethon from 2000-2013 and has served as a youth coach in various sports and handles dozens of speaking engagements annually. Chances are, he threw out the first pitch one year for your local Little League.
He has two grown children, Ashley and Bud, and has four grandchildren. He lives with his lovely wife Wendy in Pasadena.
Bruce's list of awards includes: Feature story of the Year (1995) National Sportscasters and Sportswriters Association, The Associated Press` Best Year Round Sports Coverage (1991, 1992, 1997-2001, 2003-2014 ), Society of Professional Journalists (1993, 1994, 1995 Best Sports Feature), Associated Press Best Sports Feature in 1992, 1993 and 1994, Pimlico Old Hilltop Award (2004), Baltimore Magazine Best TV Sports Anchor 2004 and Baltimore Touchdown Club – Electronic Media
Our special guests for the evening are:
Amanda Ashton & Family
Brian Eisenbrandt & Family
Hannah Fallon & Family
Nahomi Hess & Father
Claire Menke & Family
Cristhian Washington & Family
Darren Guest & Family
DJ Williams & Family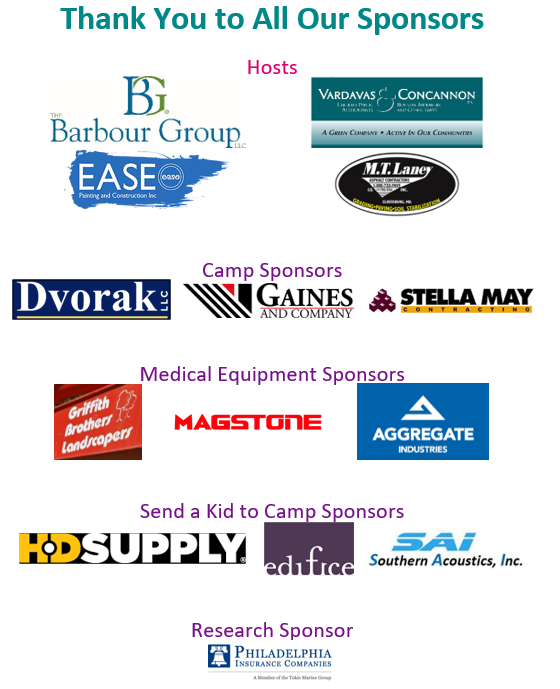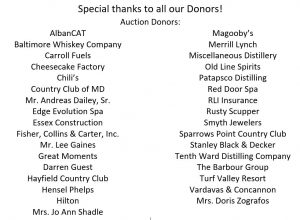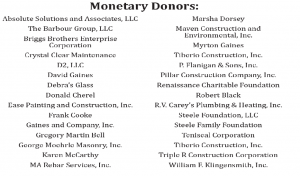 A Very Special THANK YOU to our Home Remodel Team for all their assistance on the Fallon Residence:
84 Lumber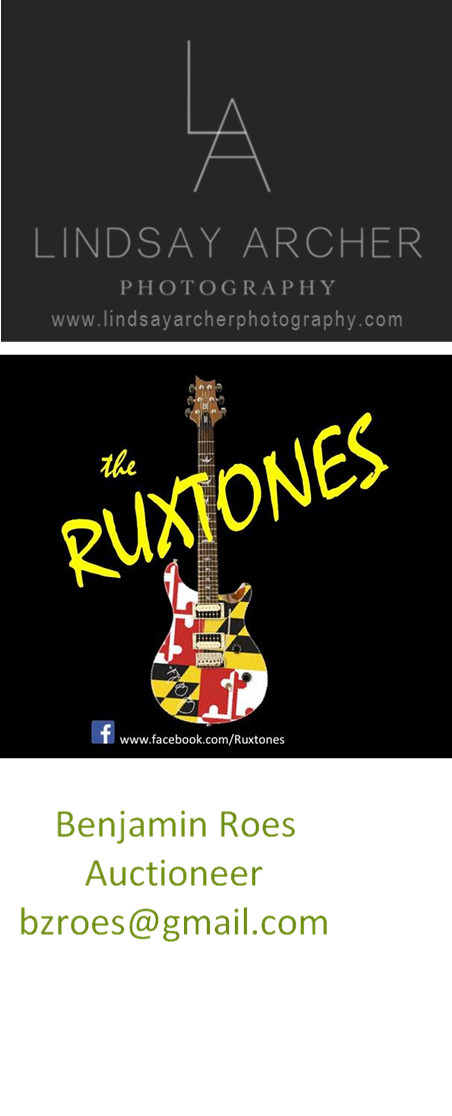 Ms. Maryann Bennett
Big Brothers Granite
Briggs Brothers Enterprises Corporation
Century Fence Construction, LLC
Doyle Systems, LLC
Dvorak, LLC
EASE Painting & Construction, Inc.
Gaines and Co., Inc.
Mrs. Carol Gallagher
George Moehrle Masonry
HMC, Inc.
Industrial Specialists, Inc.
Luis Construction
Merrill Lynch
Milani Construction
MT Laney Co., Inc.
Pillar Construction, Inc.
Thomas Frock, Inc.
R.V. Carey's Plumbing & Heating, Inc.
RHI, Inc.
Roof Right, Inc.
Southern Acoustics, Inc.
The Barbour Group, LLC
Thos. Somerville Co.
Mr. Jared Trusso
Vardavas & Concannon
Mr. Joe Warszynski
Woodwright, LLC